I can't believe my last post was on Halloween. I had actually forgotten my password here! LOL!
So, where have I been? Well, I didn't stop designing. Shortly after my last post, I made this kit:
I didn't offer it as a freebie cuz I had applied to 2 stores for a position as a designer. I was hoping to sell this one. Unfortunately, I was rejected at both stores. :o( So, I had to take a little time to lick my wounds and nurse my bruised ego. LOL!
I did get some constructive criticism from a wonderful designer and owner of a great store. She said that she thought that I had talent, but that my designs might be too cutesy to be marketable. So, I put aside the Christmas kit that I had been working on -- the one with the gingerbread boy, and went in a new direction. I made this Christmas card entirely out of papers and elements that I made. Nothing cutesy about it!
It was also suggested to me that I try to scrap with my own kits to see how "scrapable" they are. That really should have been a no-brainer, but at that point I had never scrapped a page in life -- not with my kits nor anyone else's. Kinda silly of me to think that I could design kits without knowing how to scrap, huh? But I had been using digital scrapbook kits to design signatures for myself and others in an online community. Little did I know that there's a big difference between what works well for "siggies" (as we call them) and scrapbook layouts.
So, I have been lurking in various scrapbooking communities and getting an idea of what's popular. I had always thought since people mostly scrapped kids, that cutesy, cartoon stuff would be what people wanted. Boy, were my eyes opened! The LOs that people are doing are so beautiful and elegant! They look like pages from magazines! I never realized the possibilities. Now
that's
what I want to do!
I also started scrapping my own LOs. I hate to toot my own horn, but I must be somewhat of a quick study because I've done exactly 7 LOs and 2 of them have already ended up in the "gallery stand-outs" thread at
ScrapMatters
, which has become my little scrapping home. :o) I was so honored! Here they are:
I Hope You Get Your Dreams
Most of this was made from the kit "Sunny Cove", Designs By Kawolette
The frame is from "Endless Love" by Bellisae
The font is Milk & Cereal





My Inspiration


I scraplifted "Dolly" by alamama at ScrapMatters
Credits: I used 4 kits from the ScrapMatters Design Star Contest.
"you... my inspiration" by DS43
DS21 untitled
"In my little forest" by DS 13
and "Meadow in the Morning" by DS61
I'll wrap this up by telling you what I'm doing now. I have entered this competition: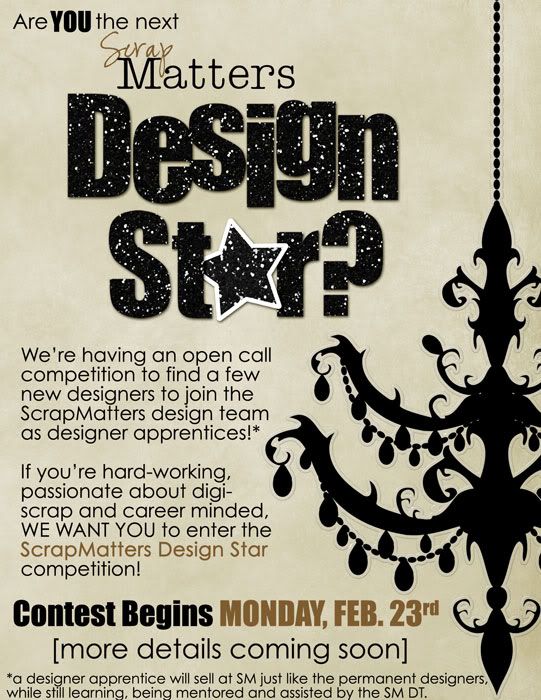 It's a 6 week competition. The first week is already over and the judges will soon announce who will be eliminated and who will move on to the next round. This first week is a blind contest to keep things fair. I can't tell you which entry is mine. I can tell you that you probably won't recognize my style from my previous kits, though.
You really should stop by
ScrapMatters
and check it out. There are a lot of beautiful freebies that you can get if your a registered member! Each participant is giving away a mini kit and they all coordinate, so what you're really getting is one huge mega-kit! And there are 88 contestants!!!! Wowsers!
That's a little more competition that I bargained for! A spot at ScrapMatters is quite the coveted position, huh? I know how badly I want it! There are some incredibly talented designers vying for that position, though. I don't know if I will make it past the first round. However, my skin has grown a little thicker since my last rejections. This is a tough business to be in, but designing really makes me happy so I won't give up no matter what happens!
I will update as soon as I know if I made it through! Wish me luck!
- Ro