Yay! iNSD is finally here! And we're going WILD!!! We have so many fun things in store for you!

First, I want to tell you about my fantastic iNSD GRAB BAG!!! I'm being very honest when I say that this is some of the best work I've ever done and it is such a steal! Included are 4 new products worth $13.50. You get one full-sized kit, one template pack, and 2 elements packs for only $3.50! That is a savings of 74%! Plus there's a special coupon from Plum Dumpling Designs! This will give you just a little peek at what's inside.




But for a better peek, how about checking out these wonderful LOs made with my grab bag!




Fun, right? Well there is so much more fun to come! At the end of this post is a is a

BLOG TRAIN

full of fabulous freebies! My CT and I made all sorts of little freebies from items in the grab bag and you can ride the blog train and collect them all! But before we get to that, I want to let you know what I have planned for tomorrow!

I'm hosting a little game on my Facebook Fan Page tomorrow and the winner will receive a

$15 GIFT CERTIFICATE

to my store!

There's also a TON going on a ScrapMatters! Take a look!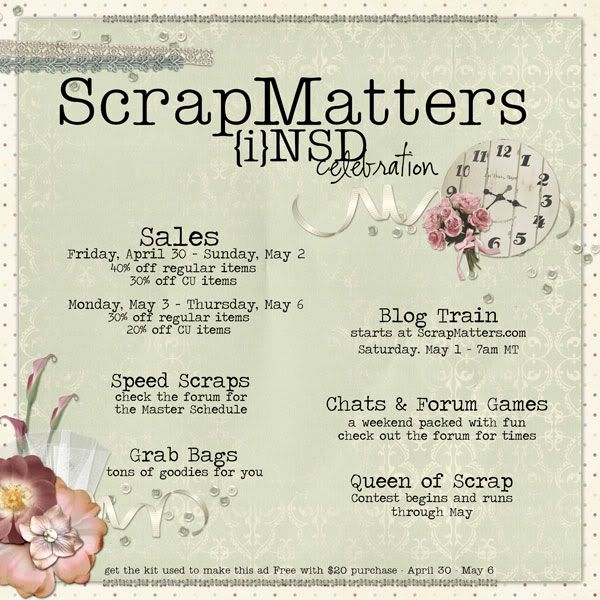 Here is where all the fun begins!

We also have an awesome Free with Purchase deal going on right now!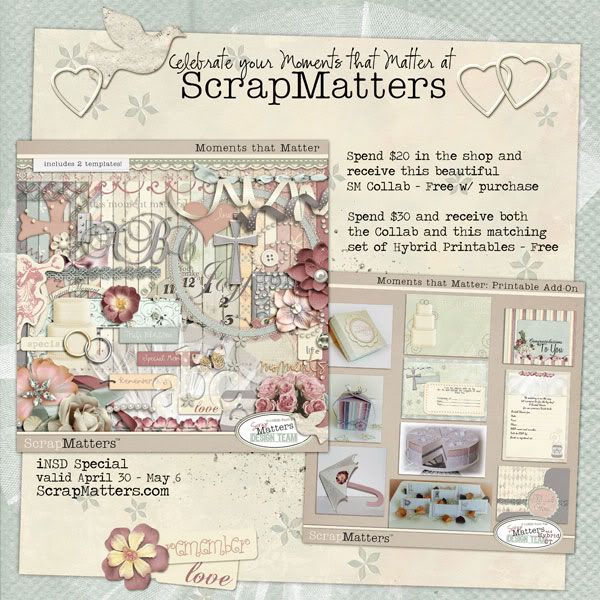 And there is another Blog Train leaving the station tomorrow with over 50 stops and all of the freebies are made using this kit! My blog is one of the stops, but the first stop is the ScrapMatters Blog.

And we're having the very popular Queen Of Scrap contest again this year!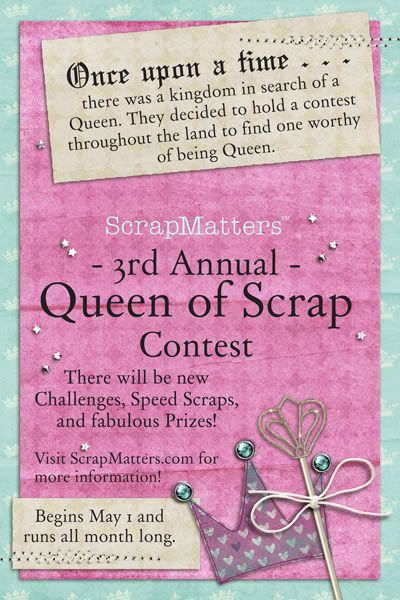 Phew! That's a LOT!

So, are to ready to hop aboard the blog train? Here is the complete list of stops!

Ro http://maninthemoondesigns.blogspot.com/ --- YOU ARE HERE
Kim http://kimbytx.blogspot.com/
Bree http://breezybutterflycreations.blogspot.com
Carrin http://twinderlandscraps.blogspot.com
Melissa http://justsopeachie.blogspot.com
Kendall http://majorscrapitude.blogspot.com/
Cara http://caraolsondesigns.blogspot.com/
Maria http://scrapp-ily-ever-after.blogspot.com/

And here is my part. Enjoy!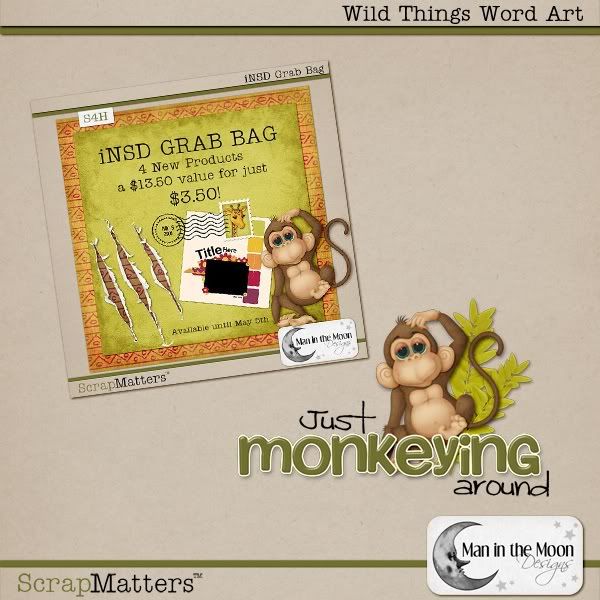 Download here



Have a wonderful iNSD! Hope to see you back here tomorrow!